iWhiteningj

In a few countries including Japan, APM has already been commercially used as a cosmetic material for prevention of freckles and other skin problems due to exposure to sunlight. Already, there were some data about the safety of APM .
Being a vitamin C source, APM has won the favor of consumers as a cosmetic material, which is familiar and easy to understand.


(Uses of APM in Japanj Japanese cosmetic products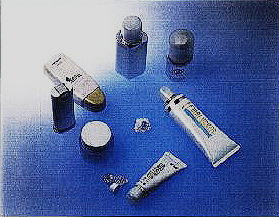 APM has already been commercially used in cosmetics in some countries including Japan. Most leading Japanese cosmetics companies including Shiseido, Kanebo, Kose, Pola, and Menard are using APM in their main existing products.

The market for APM-containing cosmetics is estimated to be as large as at least about 500 million dollars in Japan alone.
In Japan, the main use of APM in cosmetics is the prevention of freckles due to exposure to sunlight. An image of vitamin C as a health conductive and refreshing substance has already been built on the mind of consumers.

It appears that they understand the effect of APM without being bothered with reasoning. APM whitens the melanotic pigment of clone M3 melanoma cells.

Whitening effect of APM on Melanoma cell.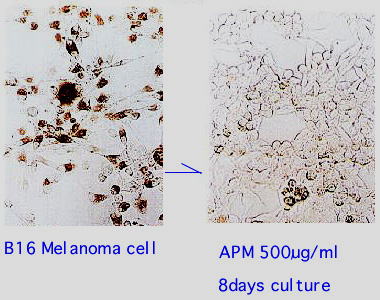 It has been reported that APM is effective against skin problems induced by exposure to ultraviolet rays.

This information is not yet been widely known in Japan. It seems that as skin problems caused by ultraviolet rays assume serious proportions, so the market of APM-containing cosmetics will grow in future. There are many vitamin C derivatives other than APM. At present, however, APM is the one and only derivative that is highly active, stable, water-soluble, and is absorbed from the skin. APM is apparently expensive. Since the recommended rate of addition is no higher than 0.1% to 0.5%, it will not prohibitively costly to cosmetics companies.
In Japan, APM has been added to quasi-drugs which are allowed to claim minor indications. APM has been mainly used in high-grade essence-type cosmetics sold for a suggested price of 50 to 100 dollars per bottle (containing 20 to 30 ml).

Thus, the rate of addition is slightly higher at 3% for the main products.

APM has already been used in cosmetics, such as lotion, essence, cream, milky lotion, hair moose, pack, masque, shampoo, and rinse. In addition, other APM-containing products including hair tonic and bath essence are now in the pipeline.
It was only recently that APM was found to benefit skin disorders due toexposure to ultraviolet rays. Nevertheless, APM holds a good promise to be accepted as a promising newcosmetic material in the US and Europe in the near future.